Take Our Achieve Clean Survey for a Chance to Win $100!
March 30, 2017
/
/
Comments Off

on Take Our Achieve Clean Survey for a Chance to Win $100!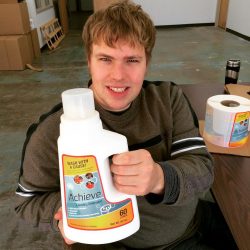 At Achieve Services, Inc. we have the amazing privilege of enriching the lives of people with disabilities by providing innovative opportunities for employment. For over 50 years, our programs have been helping hundreds of men and women lead more independent and self-fulfilling lives. However, our main source of funding is under serious threat due to federal and state policy changes and we could lose up to 25% by the year 2020.
Our solution was to launch a business with the hopes of it becoming a self-sustaining entity that will provide revenue for Achieve Services and serve our mission by employing people with disabilities. Enter, Achieve Clean Laundry Detergent – an all-natural cleaning product that gives 100% of proceeds to support job programs for people with disabilities. We consulted the top chemists at Lube Tech and vigorously tested our detergent to ensure it made whites whiter and brights brighter and we developed a workflow to maximize the involvement of our participants.
Now we need your help – we are looking for your feedback to make sure that Achieve Clean Laundry Detergent is the best it can possibly be. We have put together a brief survey to get feedback from people who have and have not purchased Achieve Clean Laundry Detergent. The whole survey will take 2-5 minutes:
As an added incentive, everyone who completes the survey by Friday, April 14th will be entered into a drawing for a $100.00 Visa Gift Card. Thank you in advance for your feedback!
— Tom Weaver, CEO of Achieve Services, Inc.