The Power of Achieve Clean – Interview with Lube Tech Chemist Stephen Dossett
April 7, 2017
/
/
Comments Off

on The Power of Achieve Clean – Interview with Lube Tech Chemist Stephen Dossett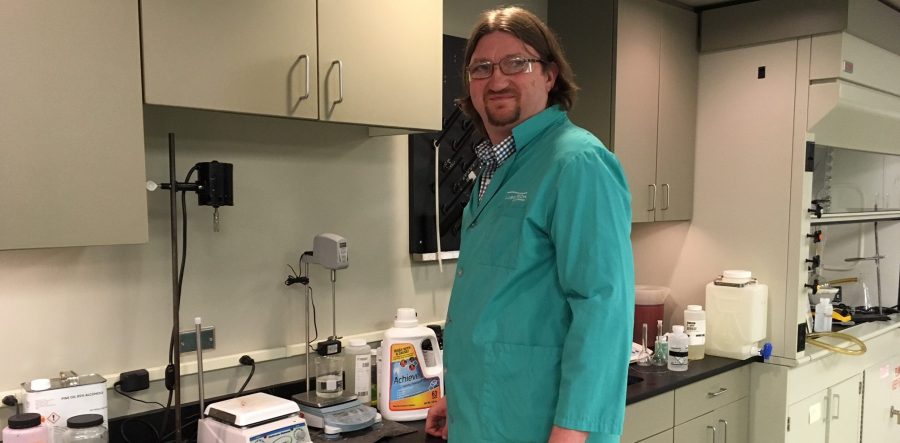 There is a reason that Achieve Clean Laundry Detergent is able to tackle just about any stain – it has a powerful cleaning formula that was created by highly skilled chemists at our partners at Lubrication Technologies (Lube Tech). Analytical Chemist Stephen Dossett was part of the team that developed Achieve Clean Laundry Detergent to get whites whiter and brights brighter. Recently, we had the opportunity to see Stephen at work in the lab and interview him about the process of making the Achieve Clean formula.
The Development Process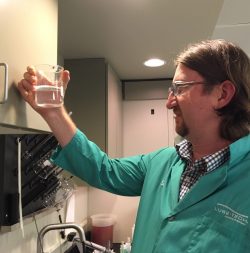 "The first step was to find the right combination of surfactants," says Dossett. A surfactant is a compound that lowers the surface tension between two liquids or between a liquid and a solid. In other words, these are the ingredients that separate stains from clothes or other fabrics. Dossett explains, "we tested a variety of different cleaning surfactants and emulsion surfactants. We had to consider things like how well they would deal with hard water and the cleaning power in hot water versus cold water. Stability was very important."
While the formula was being developed, we at Achieve Clean were doing our own research to determine what consumers preferred in a laundry detergent. After considering liquid, powder, and pods, we determined the best would be a liquid that can work in high efficiency machines. The Lube Tech chemists considered our recommendations and continued to master the formula.
"Each surfactant is ultimately a blend of other surfactants," continues Dossett "there are a lot of different possibilities." In addition to cleaning ability, Stephen and the other Lube Tech chemists had to consider things like the thickness of the formula and whether the formula produces high foam or low foam when used.
Keeping It Natural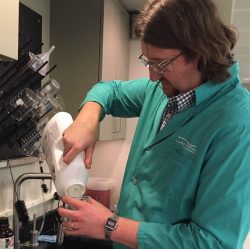 Along with stellar cleaning ability, it was also important that the laundry detergent we put our name on was good for the environment and the people who use it. The Lube Tech chemists were enthusiastic about the opportunity to create a natural product and they sourced plant based ingredients to ensure the formula maintained an environmentally friendly standard. "Most surfactants involve chemical modification of linear chain alcohols," says Dossett. However, longer chains, like the kind that are derived from plant based ingredients, "are more stable and don't have to be chemically manipulated."
The benefits of a dye free, scent free, all-natural cleaning product are clear. Dossett said that "older [mostly petroleum-based] formulas used to leave a benzene ring in the environment." This was a harmful bi-product that could damage ecosystems. The all-natural formula leaves no bi-products is generally considered environmentally safe.
Putting It to the Test
Once the formula was constructed, it was time to put it to the test doing what it was made to do – clean clothes. Dossett explained that the formula underwent several phases of testing, "we did some of our own field testing, which consisted of me and several other Lube Tech employees taking it home and trying it in our own machines. We also sent it to a third party lab that does official test protocols." TD Research Ltd. "tested Achieve Clean Laundry Detergent against a leading national brand in a controlled setting where they standardized soils, and tried different fabrics including polyester and cloth." The exact wording in their report stated that Achieve Clean Laundry Detergent, "at a lower dosage rate, is comparable in performance to the National Brand."
We are very proud of the cleaning ability and environmental impact of Achieve Clean Laundry Detergent and we are thrilled that Stephen and the team of chemists at Lube Tech were willing to lend their expertise to develop it!
Give Achieve Clean Laundry Detergent a try for yourself and see how well it works for you!