Valentine's Sale at Achieve Clean Retail Store!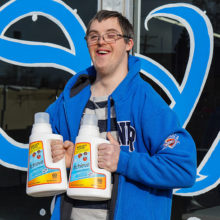 Looking for something more unique that candy hearts or flowers for Valentine's Day? Well Achieve Clean has you covered!
Join us at the Achieve Clean Retail Store this week and next for our Valentine's Day Sale! We have an assortment of great gifts including t-shirts, tote bags, magnets, bookmarks, artwork, and much more! Plus we have dozens of different Valentine's Day Greeting Cards to go along with your gifts. All items were made by people with disabilities at Achieve Services with 100% of proceeds going to support our programs.
Additionally, Achieve Clean Laundry Detergent will be on sale – come into the retail store and receive $5.00 off one bottle or $10.00 off a new subscription!
We will have FREE COFFEE and COOKIES from 9:00AM to 2:00PM on Wednesday, February 7th and Thursday, February 8th. Stop by and see us!
Check out the Achieve Clean Retail Store page for details about hours and location.