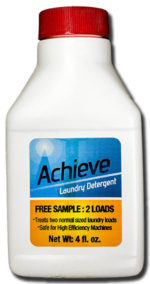 Due to overwhelming demand for Achieve Clean samples, we will not be able to fulfill every sample request. If you would like to request a sample, please e-mail us at: info@achieveclean.org and include your name, address, and the reason you would like to request a free sample.
NOTE: We currently only ship to Minnesota, North Dakota, South Dakota, Iowa, Wisconsin, Illinois, and Eastern Nebraska. Please contact us if you have special shipping request.
In the meantime, we encourage you to visit our homepage and purchase a bottle of Achieve Clean Laundry Detergent where all of the proceeds support job programs for people with disabilities. We offer a 100% money back guarantee so if you don't love it, we will happily refund your purchase.
Be sure to follow Achieve Clean on social media and subscribe to our mailing list and be the first to learn about new promotions and stories about the people we serve: