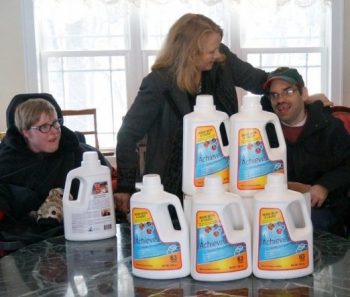 Last week we outlined all of the benefits of subscribing to Achieve Clean Laundry Detergent. However, the idea of a laundry detergent subscription is still pretty new for most people, so we thought we'd post this handy guide that will hopefully answer any questions you might have about an Achieve Clean subscription.
How do I set up and manage an Achieve Clean subscription?
First, determine if you want to receive a single-pack or double-pack of detergent with each order. Then determine your billing period and click "Sign Up Now." Once the order is added to your shopping cart, you can visit the shopping cart page and check-out. Choose your shipping method, and fill in your order details. You will be asked to enter a password. Any time that you want to change or cancel your subscription preferences, you can simply go to the My Account page and login using the password you set up and your e-mail address.
What are the billing period options?
You can choose to receive your detergent once a week, once a month, once every two months, once every three months, or once per year. Consider that one bottle is good for around 60 loads of laundry before making your final decision. If you do laundry multiple times per week, you might want to choose monthly, but if you are only washing clothes one day a week, then a 2-month or 3-month billing period might be the best.
What if I'm getting too much or not enough detergent?
If the detergent bottles start to pile up in your laundry room or if you find yourself frequently running out before your renewal period, you can log in to your account any time and change your delivery frequency. Subscribers also get exclusive access to coupons and discounts so if you find you just need to purchase a single bottle before your subscription is up, you can usually get a good deal.
I live near Achieve Clean. Do I have to pay for shipping?
Nope! When you sign up for a subscription, you can choose "Local Pickup" as one of the options and when you are up for renewal, you will get an e-mail letting you know that your detergent has been set aside at Achieve Services in Blaine or Achieve Clean in Fridley and you can stop by and pick it up at your convenience.
How do I know that I'm supporting people with disabilities?
Every time that you receive a bottle of detergent for your subscription, you will also receive a flier with a story of someone who is benefiting from a job with Achieve Clean. If you are in the area, we also encourage you to stop by our retail location during our operating hours and meet some of the terrific men and women who fill, label, and package each bottle of Achieve Clean detergent. We promise you'll leave with a smile!
---
Now that you know how an Achieve Clean subscription works, we want you to help use reach our goal! We want to get 200 subscribers to Achieve Clean Laundry Detergent by July 4th, 2016. If you are not currently a subscriber, go sign up now! If you are already a subscriber, tell your friends to join you by posting on social media or e-mail. You can follow our progress as we strive for 200 on the progress bar to the right of this page or on our Facebook and Twitter pages, where we will be posting frequent updates.