Support Your Organization by Fundraising with Achieve Clean Laundry Detergent!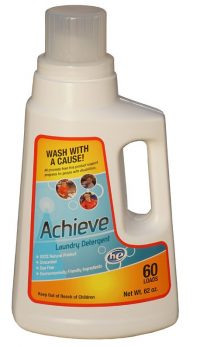 Looking for a new way to raise money for your non-profit, charity, or school group? Why not sell something that EVERYBODY uses? Our Achieve Clean Laundry Detergent fundraiser might be a great opportunity for your organization for several key reasons:
Everyone uses laundry detergent, and your supporters will LOVE Achieve Clean.
Your group will make excellent profits on every bottle sold.
Your efforts will help create jobs for people with disabilities.
There are many different ways to fundraise using Achieve Clean and we would be happy to create a customized fundraising plan for your organization. Contact us today to get started!
NO RISK – BIG EARNINGS POTENTIAL
Cost and Earnings
$15.99 per bottle = Price you sell to your supporters.
$13.99 per bottle = Cost we sell to you.
$2.00 per bottle = Your Earnings!
Our costs are competitive with major detergent brands. Sell subscriptions for recurring income potential!
Potential Examples
10 People in Your Organization Sell 10 Bottles Each:
100 Bottles = $200 Earnings
10 People in Your Organization Sell 10 Monthly Subscriptions Each:
100 Bottles/Month = $200/Month = $2400 in 1 Year!
Potential Ways to Start a Laundry Detergent Fundraiser:
Set up a booth at your next event and sell the detergent.
Reserve a spot at your local Farmer's Market. Usually the cost to get a space is very low (especially if you negotiate a non-profit rate). Green-conscious consumers will love that the product is environmentally friendly.
Send a flier home with students or clients asking for orders. Encourage supporters to buy one bottle for them and another to give to a friend or relative. After you collect all of the order forms, go make the deliveries!
We can even set up on online ordering system to make it super easy for your supporters to get a bottle!
The possibilities are endless, so contact us today to get started!