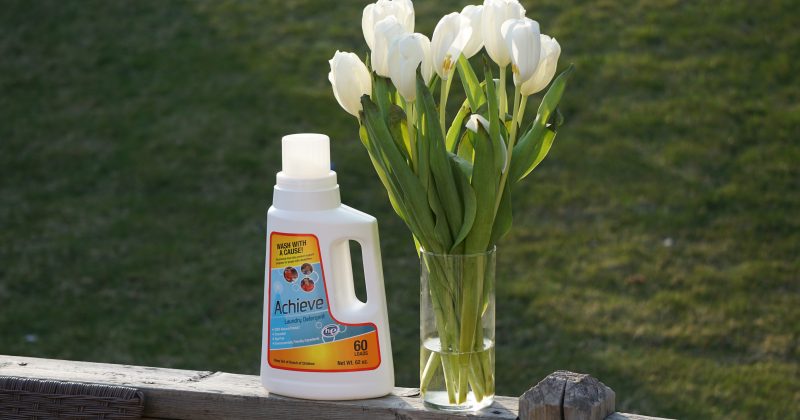 Achieve Clean Laundry Detergent has been on the market for just over a year now and we've received great feedback from those of you who have supported us and purchased a bottle. Last week on our Facebook page we announced the Achieve Clean Laundry Detergent new formula and new bottle size. Now we are excited to share the details of what's different about the new formula and why we think it's better.
Thicker, More Concentrated Formula
The first big difference you will notice in the new Achieve Clean formula is the thicker quality of the actual detergent; or as our chemist would say "increased viscosity." Based on your feedback that the previous formula was too thin, we removed some of the water, increased the cleaning agent, and added some all-natural ingredients to boost the cleaning power and make the detergent thicker. Our full ingredients list can be found on the product page.
This means that each load requires less detergent and you can get more loads of laundry out of a single bottle. Which leads us to the next big change.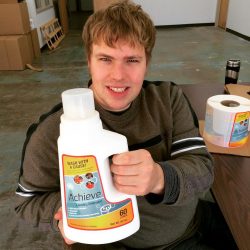 Smaller Bottle, Same Amount of Loads
We have reduced our bottle size in half from a bulky 128 oz. to a more manageable 62 oz. Based on your feedback that the previous bottle was large and heavy at over 9 lbs., we have made the bottle much easier to carry at just over 4 lbs, meaning those walks from the store to your car will be much less of a workout.
However, the reduced bottle size does not mean a loss of quantity. Due to the higher concentration, you actually can get virtually the same number of loads as the previous bottle because each load requires less detergent. In fact, an independent lab study has confirmed that Achieve Clean Laundry Detergent, in lower doses, cleans as well or better than a leading national brand. Just be sure to measure the correct amount based on the instructions on the label.
Better Quality, Same Great Cause
The quality of the detergent has improved and the bottle has gotten smaller, sturdier, and less likely to leak. However, the reason to "Wash with a Cause" is the same as it has been from the beginning – all proceeds from Achieve Clean Laundry Detergent go toward supporting programs that help people with disabilities find work and enrich their lives. Each bottle still contains a story of one of the people who Achieve Clean supports and the production and distribution of the detergent continues to create many new job opportunities for people with disabilities.
We encourage you to buy a bottle of Achieve Clean Laundry Detergent today, try our new formula, and WASH WITH A CAUSE!